About Bus Go Dunedin
This website is run by Bus Go Dunedin: Bus Users Support Group Ōtepoti Dunedin.
Our mission statement is "Advocacy for bus users and supporting and promoting fast, clean, efficient, low-cost public transport in Ōtepoti Dunedin."
We support the users and providers of public transport in Dunedin which are operated under the brand GoBus by several bus companies and the Otago Regional Council.
Aims
to collate and provide information about Dunedin's public transport (facts).
to provide advocacy for a bus system that best supports the needs of bus users (opinions).
to assist and inform users
to assist transport providers
to enable lively debate about public transport in Dunedin
To provide information about Bus Go Dunedin
We are making a Submission on Otago Regional Council's changes to Peninsula bus service

Read more >
Minutes of recent meetings
Minutes of our recent public meetings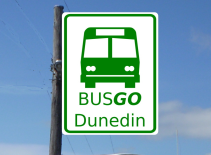 Our organisation
Contact us
By email: contact[at]busgo.org
Co-President: Alex King 021 410 420
Co-President:: Peter Dowden 021 137 2129
Links
Contents